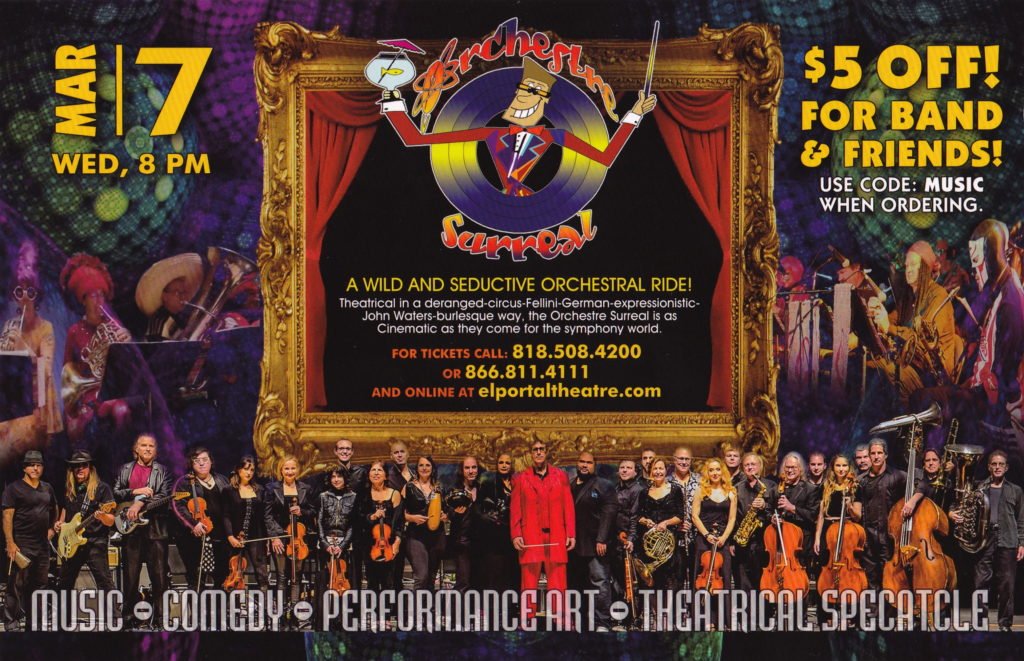 Photos from this event by Doglight Studios/Ronald Dunlap Photography – rdunlap@doglight.com
I will be playing keys with Orchestre Surreal at Historic El Portal Theatre in North Hollywood CA NoHo Arts District on Wednesday March 7, 2018
The Orchestre Surreal is a deranged-circus-Federico Fellini–German-Expressionist–John-Waters–Burlesque adventure ride! We've got new material, our classics, and a tribute to spoken-word maverick Joe Frank (RIP 1/15/18). Come be a part of the madness and the magic.
Order tickets online here and get $5 off using the promo code: MUSIC
To order tickets by phone call 818-508-4200 or 866-811-4111
El Portal Theatre
5629 Lankershim Blvd (Google map)
North Hollywood, CA 91601
"Do you like wacky costumes? Dominatrixes? Ultimate Fighting Champions? Prokofiev? Stravinsky? Hendrix? Nancy Sinatra? Spankings? Then haul your glowing red patooty over to the El Portal Theatre this Wednesday!
Elvis Schoenberg's Orchestre Surreal is easily the most twisted symphony orchestra in LA. Twisted, gnarled, dysfunctional, mob-tied, post-office-mug-shot-ed clowns stuffed in a clown car. It's also one of the most innovative, challenging, and unique hybrid vehicles to be let loose on the musical highway, and easily THE MOST fun I've ever had making music. And we're playing (all 30 of us!) this coming Wednesday evening on a beautiful stage in the NoHo Arts District.
If you've never seen us before, you're in for a very fun and irreverent evening. If you have, you're guaranteed to repeat that fun. And this time out we're paying tribute to the late, great spoken-word maverick Joe Frank, who recently traveled out of this realm. He was one of the early influences on the OS, and Dangerous Dan, Elvis, myself (that's the Fabulous Miss Thing, for you neophytes….or would that be neonates?) and our trombonist, the "lit king" John Grab, have all composed pieces in tribute to Mr. Joe Frank.
Come help us celebrate the remarkable horizons that art and all things creative can breach. The possibilities are endless."
– Angela "The Fabulous Miss Thing" Carole Brown
Artist: Bill Fulton on keys or piano with Orchestre Surreal
Date: Wednesday, March 7, 2018
Time:
Venue:
El Portal Theater
11206 Weddington St
North Hollywood, CA 91601