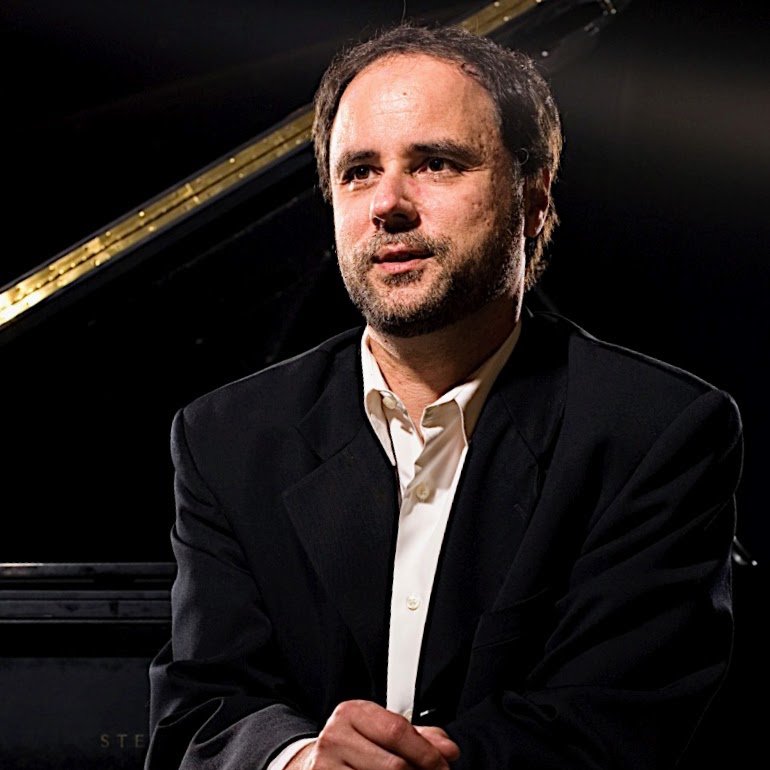 Bill Fulton was born on July 4, 1962 (Yes! I'm a Yankee Doodle Dandy!!) in Oakland, California and spent his childhood in nearby Alameda. Bill began his music exploration at the age of 7 on the trumpet in the school concert band as his family did not yet own a piano. At the age of 15, Bill's family moved out of their 2 bedroom apartment in Alameda to a 5 bedroom house in Dublin, CA. It was there that the Fulton family purchased their first piano.
At 15 and acquiring his first piano at home, Bill quickly discovered he had an affinity for the piano and rapidly learned on his own except for 1 or 2 lessons from his mother who was a prodigy on the instrument in her youth. Bill also learned the fundamentals of music theory through self-study as well as from his uncle and maternal grandfather who were both pianists. Music generally runs in Bill's extended family though no one pursued music as a career.
Very soon Bill became very interested in composing and arranging more than actually being an accomplished pianist. Bill wrote arrangements for the high school concert and marching band as well as local community bands as well as many instrumental songs with and without lyrics.
In September 1980 Bill enrolled in Cal State Hayward (now Cal State East Bay) as a music composition major. After Cal State Hayward, Bill worked extensively in California and Oregon as a keyboardist, pianist, teacher, composer, arranger, and engineer. As a keyboardist in the San Francisco Bay Area, Bill performed often at private venues, concerts (Sheila E, D'wayne Wiggins of Tony! Toni! Toné!, formerly KSAN radio personality Steve Jordan, keyboardist-arranger-producer Tom Tomasello, Touch 'n Go Band, Grant Geissman 1981 guest appearance at Diablo Valley College in Pleasant Hill CA) and major hotel chains up to 6 nights a week
In 1987 Bill moved to Los Angeles to attend the Dick Grove School of Music to study with the master himself, Dick Grove. While attending Dick Grove, Bill also played many local live gigs in the Los Angeles area at clubs, concerts, shows, and private events. Through contacts that Bill made at the Dick Grove School, Bill was recommended to a staff position as a composer at Sunset Studios (fka Hollywood Center Studios and former home of Desilu studios, owned by Lucille Ball and her husband Desi Arnaz) for MCA TV and The Arthur Company Television and Motion Pictures in August 1988. In 1989 The Arthur Company moved to Universal Studios lot. While at The Arthur Company, Bill created themes and underscore for "The Munsters Today", "The New Dragnet", "The New Adam 12", "FBI: The Untold Stories", and many other industrial/instructional films and commercials.
In 1993 began writing music for Warner Bros Animation, Hanna-Barbera Cartoons, and Cartoon Network for "I Am Weasel", "Cow & Chicken" and "What A Cartoon!" animated series.  "I Am Weasel" episodes were featured as source tv music in the films "The Ring" (Naomi Watts) and "Unbreakable" (Bruce Willis, Samuel L. Jackson) and several other tv shows.
In 1997 Bill composed and produced the score to the "Blotto" episode of the Nickelodeon series Oh Yeah! Cartoons. This episode was produced and animated by renowned animator and writer Byron Vaughns. It was a groundbreaking animated score featuring iconic R&B/funk music with soaring soul-infused vocals. Starting In 2001, Bill began composing music for advertising agency BBDO. Some of the spots Bill wrote for included music for Frito-Lay's "Cheetos Go-Snacks." Around that same time from 2000-2003 worked with Wild Brain writing music for several episodes of the animated series "Poochini" which aired on Nickelodeon tv network. Around this time Bill also wrote music for the online animated series "Inspector Beaver" for Mondo Media.
In 2002 Bill launched the Bill Fulton Band (little big band with 4 horns), which released 2 CDs – "Time" (2002) and "About 12:00am" (2009). The Bill Fulton Band features the greatest musicians in Los Angeles including legendary saxophonist Ernie Watts (Tonight Show, Rolling Stones, Charlie Haden's Quartet West). Performing jazz fusion, smooth jazz, funk, pop, and classical styles, The Bill Fulton Band has played in many Los Angeles venues including the Playboy Jazz Festival at the Rose Bowl in Pasadena via The Recording Industry's Music Performance Trust Fund, La Ve Lee, Catalina Jazz Club, The Grove, LA Farmer's Market, and Lunaria.
Without interruption from 1980 through 2017 (at this writing) in addition to the numerous tv and web series in which Bill composed music, Bill consistently worked as a live keyboardist and pianist with numerous artists in venues all over the world. Some of the major artists Bill works for are Engelbert Humperdinck, Suzanne Somers, Connie Stevens, Jack Sheldon, Jeff Lorber, and many other notable Los Angeles artists and ensembles.
As a composer, arranger, orchestrator, and copyist of orchestra and big band scores, Bill has worked for many clients including Engelbert Humperdinck, Connie Stevens, Steven Bishop and many others since 1980. Bill's original big band and orchestral scores are very popular with high school music departments, university music departments, music camps, and many other music groups throughout the United States and the world. Bill's arrangements and charts can be purchased at Bill Fulton Music Store.
In 2016 Bill launched the band Groove Lexicon (fka The Bill Fulton Band) with drummer David Anderson. Groove Lexicon is performing around Los Angeles and recently made a music video. They are pursuing extensive promotion as well as more live performance.
On 6/9/18 Bill had the great pleasure to play at the Hollywood Bowl for the Playboy Jazz Festival with Roy Gaines and His Tuxedo Blues Orchestra. Here is an article in the Los Angeles Times about the event.