Parlett/Fulton All-Star Big Band (now Psych! Big Band)
Tuesday, November 18, 2008
If you happened to be on Pico Boulevard Tuesday night and wandered into the Santa Monica Bar & Grille, you were in for a real treat. On stage, making their debut, was the Parlett/Fulton All-Star Big Band. And while there are a lot of adjectives this reviewer could use to describe the evening, the best one is simply, "Wow!"
The 17 member band of all stars, brought together by co-leaders Mike Parlett and Bill Fulton, began the evening with The Chicken and, from the first note, you knew the night was going to be something special. And that "something special" continued throughout the two set show. Sometimes you can just tell when a group loves playing together and this group certainly did. There were standout performances all around but let's just say that the charts, the music, the dedication and the energy were palpable.
The program consisted of great arrangements of tunes you will know and love along with original compositions and arrangements by Bill Fulton who played keyboards and co-led the band. Standouts tunes included a hot rendition of My Favorite Things, an original song by Bill Fulton entitled Los Gringos and Pat Metheny's, James. Solo performances were shared all around which added icing to the already wonderful cake. By the bios in the program (and what other Big Band puts out a program?), the entire band is made up of top players: Mike Parlett and Fred Horn on Alto, Vince Suzuki and Scott Roewe on tenor sax; Laksar Reese on Bari Sax, Bill Theurer, Jeff Elliott, Jon Pappenbrook and John Thomas on trumpet, Steve Johnson, Alisha Marie Ard, Les Benedict on trombone, George Thatcher on Bass Trombone, Chris Strandring on guitar, David Hughes on bass and David Derge on drums.
But the most memorable moment of the evening for me was an original song called Ozmosis. This arrangement, another Fulton original, had these pros with their heads deep into the chart… a real indication of how challenging the music was. The result? An absolute feast for the senses. They blew the roof off the place!
We all hope they continue playing around town because, once the word gets out, it's gonna be an SRO for every show. I can't wait for them to put out a CD!
Bruce Economou
Mr. Economou is literary and talent manager in Los Angeles (he is not affiliated with the Big Band).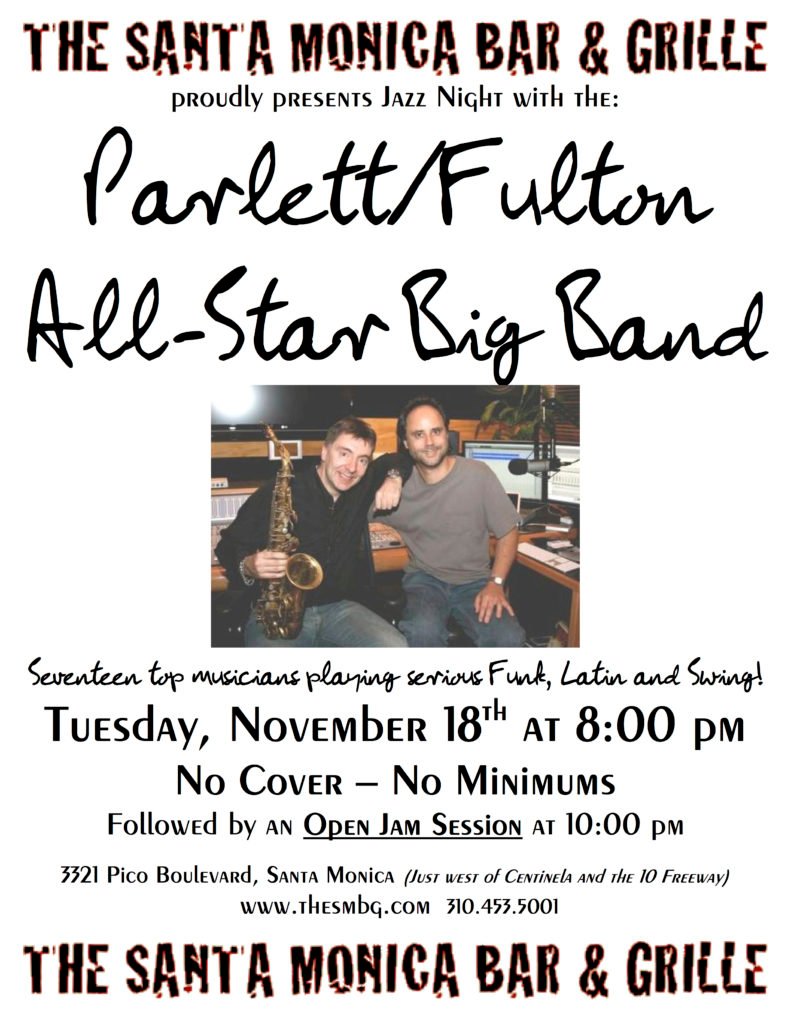 Artist: Bill Fulton on keys or piano Parlett/Fulton Big Band
Date: Tuesday, November 18, 2008
Time:
Venue:
Santa Monica Bar & Grill - CLOSED
3321 Pico Blvd
Santa Monica, CA 90405