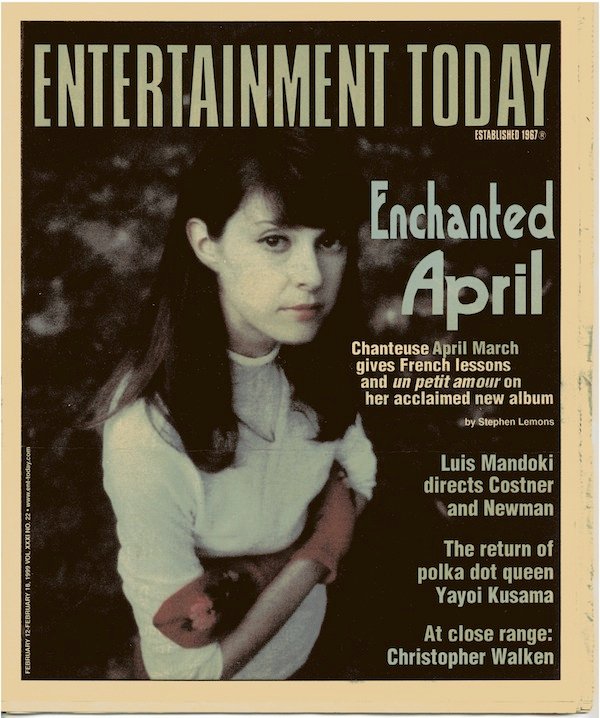 https://youtu.be/VvLV3OZAcygI worked with April March (Elinor Blake) on the theme song to "I Am Weasel." I found this old article in my files and decided to scan and post it.French TwistChanteuse April March provides French lessons and un petit amour on her acclaimed new album Chrominance Decoder
by Stephen LemonsApril March is a vision in blue. A thin, pale-skinned beauty with long brown hair and eyes to match, she's wearing a navy jean jacket and flared pants of the same color as she sits before a cup o' joe in a noisy little Santa Monica coffee shop, talking to a reporter about her new CD out on the Dust Brothers' Ideal Records, Chrominance Decoder. Well, that's what she and her interlocutor are supposed to be talking about on this cold, gray Saturday afternoon. However, the conversation has gotten off to an odd, albeit pleasant, start. You see, March is a serious reader of very serious literature. Amongst her faves are the novelists Knut Hamsun and Louis-Ferdinand Celine, two of the greatest names in belles lettres, and yet ones which are obscure to even the everyday American of above-average intelligence.
So devoted is March to these literary lions that she has spent a good deal of her free time painting portraits of Hamsun, the Nobel Prize-winning Norwegian author, and she has named one of her cats after the most famous feline in modern French literature — Bebert, the pet and companion of Celine and his wife Lili in novels like North, Castle to Castle and Rigadoon. "I get so much more out of literature than I do out of music," says March with her ever-present smile. "I kind of put [Celine and Hamsun] in the same category. It's really immediate and feels so autobiographical."
March's refined reading habits are part of a laundry list of characteristics which mark her as one especially rare bird. At the age of 33, she has been a successful illustrator for such groundbreaking shows as Ren and Stimpy and Pee-Wee's Playhouse, but she has since forsaken animation in favor of her singing career. She still paints every day — indeed, the first thing she does in the morning is hit the canvas. But when asked if she's ever exhibited her work, she replies, "It hasn't occurred to me. I'm just kind of fooling around."
A native of New York and former inhabitant New England, March graduated from the prestigious Massachusetts prep-school Phillips Andover Academy only to buck the pressure to go after an Ivy League sheepskin. "They really wanted me to go to college," she says of her highbrow parents. "But I wanted to become an animator, so I pursued that." Pursuing animation meant running off to New York on her own at the age of 18 and landing a job first with Archie's Comics and later with Pee-Wee's Playhouse.
Idiosyncrasy and independence to the point of eccentricity — that's the strain that seems to run throughout March's existence. Born Elinor Blake, she began to pursue a side career as a vocalist under that name with her first band the Pussywillows. That got her noticed by Ronnie Spector's producer, and she ended up touring with the legendary star as a Ronette. Following the breakup of the Pussywillows in 1991, Ren and Stimpy came calling, and soon she was loading up her sister's VW and heading for the promised land of El-Lay. At some point past the Continental Divide, Elinor Blake transformed into April March. Oh, she still goes by Elinor Blake when the tax man cometh, but April March seemed better suited to the kind of music for which she would eventually become known. "I was born in April," March explains. "The name sounds like a pop singer — an old-school pop singer." Call it Kismet. The name stuck, and Chrominance Decoder will be the fifth album under the pseudonym.
Though March did time with the bands the Shitbirds and the Haves, it was when she toured with the French band Air last year that things really began to happen. As a result, March started getting the kind of press most musicians only dream about. "The tour really helped because people got to see me," she relates. "The piece in Spin [February, '99] started off as a piece about Air. After they interviewed me we did a photo shoot and they just decided to make it a separate piece." March has also received favorable press in magazines like Detour, Billboard, OW, Interview and others — a sign that more than a few people have fallen for March's unique recycling of French '60s pop on Chrominance Decoder, which started appearing in stores last week.
The recording matches March's considerable talents with those of French producer Bertrand Burgalat in an homage to the so-called "ye-ye" music of decades past — a light, poppy sound associated with artists like Francoise Hardy and France Gall. Add in a little bit of the French Dylan Serge Gainsbourg and the hip sounds of the '90s, neo-Marxist group Stereolab to the mix and you'll begin to approximate March's magic. But even these references, as obscure as they may be to many, don't do full justice to Chrominance Decoder. The recording has a springy, bubbly air one might almost immediately associate with go-go dancers, polka-dotted miniskirts and French films from the '60s. But this fun, effervescent ear candy masks lyrics from March that are often sardonic or out-and-out nasty, such as in "Sugar" where March's clean, clear vocals sing about how a lover stole her "sugar" and left her in tears (you get the metaphor), or in "Garcon Glacon" where a girl talks about needing a boy to cool her down and then discarding him once winter rolls around. The overall result is a distinctive product that, despite its obvious precursors, is most definitely sui generis. After all, despite all things retro being hot these days, March is just about the only chanteuse to look to the France of De Gaulle, Citroen and "ye-ye" for inspiration.
Even the title Chrominance Decoder has to be chalked up to March's apparently innate intellectual eclecticism. Asked to explain the term, she describes "this little mechanism in the TV set that translates the color signal and helps make the picture." But the song's about more than TV technology. "I'm talking about someone made famous by television," she says, smiling secretively. "I don't know if I should say who it is. I don't think they've heard [the song] yet." This prompts a brief guessing game, which ends in March revealing the name of a famous animator but then swearing her interviewer to secrecy. "I think it's greatly unflattering," she says, grinning sheepishly. "It's kind of saying to this person, 'Maybe you should live a little."
With many of the songs on Chrominance Decoder fluently sung in French, you may be under the mistaken impression that March is of French descent, but she describes herself as simply an "enthusiastic French student." (She did spend 6 weeks in Avignon as part of an exchange program when she was in junior high. The Southern French town was the sight of her first French kiss.) And March's music is so accomplished that you'd expect her to be proficient in any number of instruments. But March claims to only play the guitar "very badly." Otherwise, she ascribes her songwriting abilities to the "Arthur Alexander method." In case you're wondering about who Arthur Alexander was, March explains that he was a brilliant songwriter for the likes of the Rolling Stones and the Beatles. "He wrote a ton of great songs," she says. "He didn't play an instrument. He just sang to the musicians — sang them their parts. But they're incredible songs with great melodies."
March seems to have followed well in Alexander's footsteps. Chrominance Decoder is similarly full of superlative songs with great melodies. Tunes like "Mignonette," "No Parachute," "Mickey et Chantal," "Garcon Glacon" and the title track stick with you, and you find yourself humming them at odd moments in the shower or driving in your car. Play the CD to yourself, and it's hard not to start dancing along to the pop beats after the manner of some '60s chick on Laugh In. And the fact that March's songs are sung in the language of love adds allure, even if you only remember the language from high school French classes. "Well, the singles 'Sugar' and 'Nothing New' are in English," she replies when asked if she thinks the French will be a barrier to listeners. "People seem to be accepting the French a little bit more these days. I don't know. We'll see. It might be a big bomb, and you might get fired for putting me on the cover." Very funny. But fortunately you can't fire a freelancer.
Although April March is still planning on getting a formal band together to play some gigs in the upcoming months, her main engagement for February is a stint this Valentine's Day on KCRW from 9-10 p.m. where she'll spin the platters that matter most to her. "I'm going to be playing all the old French music," she says, smiling. "But I'm kind of thinking no one will be listening because they'll all be out on their dates. I'm planning a really cheerful show in case people will be home with guns in their mouths." Of course, folks might also be home early if their dates are going extremely well. But even if you're flying solo this V-Day, at least you'll get to share an hour of love with April March.
April March's CD Chrominance Decoder is in stores now on Ideal Records. You can also check her out on Valentines Day from 9-10 p.m on KCRW 89.9 FM. Don't forget a bottle of bubbly!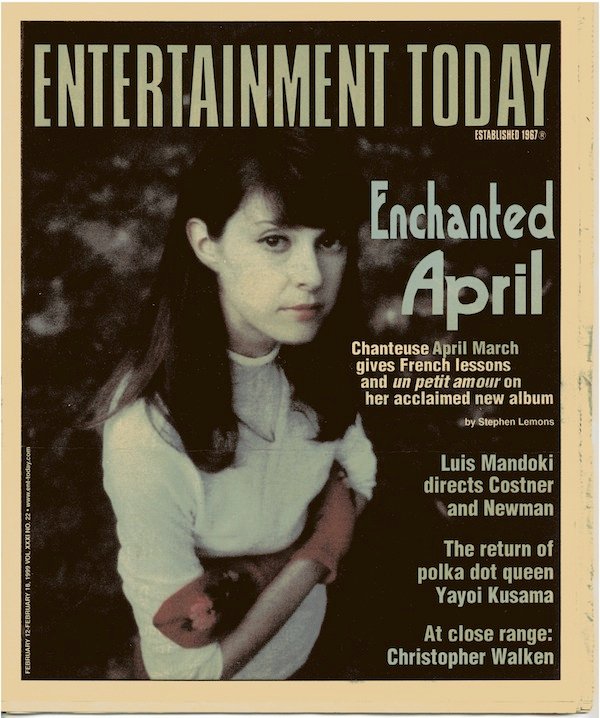 Year(s):
1997-1999
Bill Fulton role:
Bill Fulton (IMDb)
theme and background music composer
Production:
I Am Weasel
Episode:
all episodes
Media Category:
Cable or Network TV
Production Co:
Cartoon Network
,
Hanna-Barbera Productions
Director/Producer:
David Feiss