Last Saturday night, we were at the Riviera to see Connie Stevens and John Byner in the newly renamed Starlite Theatre. Veteran comic/impressionist, Byner, opened the show doing some old favorites, including a very funny John Wayne bit. We wish that clever Byner had had a little more stage time. Connie's band was made up of her son-in-law, Byron Thames, on keys and acoustic guitar; Bill Fulton on keys; Dave Bronson (from Righteous Brother Bill Medley's band) on drums; Kenny Parks on percussion; Mike Clinco on guitar; and Rick Vittallo on guitar. Backup vocalists were Trisha Leigh Fisher (Connie's daughter), Jessica Williams, and Ray Ray Irwin. Stevens and the group performed standards and contemporary songs, including "Higher Love," made famous by Steve Winwood, Michael Buble's "I Just Haven't Met You Yet," Stevie Nicks' "Landslide," "Where Or When," Keith Urban's "Somebody Like You" and "Who Wouldn't Wanna Be Me," "How Do You Keep the Music Playing," "The Glory of Love," "A House Is Not a Home" and Do It On My Own." Tricia Leigh and hubby Byron teamed up for a country number from their new album. In addition to being an entertainer and business woman, Stevens is adding producer and director to her resume.

Saving Grace B. Jones, is an independent feature film, written, produced, and directed by Connie Stevens. Starring Academy Award-winner Tatum O'Neal, Michael Biehn (who we best remember as the obsessed fanatic, stalking Lauren Bacall in the movie, The Fan), Piper Laurie and Trisha Leigh, Saving Grace B. Jones will be in theaters in September.

We ran into Nelson Sardelli, Babe Pier and Rob Garrett, known as "The King of Diamonds," with pretty Shelly Powers, at the show on Saturday. Look for Hot August Night, Rob Garrett's Tribute to Neil Diamond, in The Club at the North Las Vegas Cannery on August 13th. Show time is at 8 p.m., with admission a more than reasonable $10 at the door.

During their stay in Las Vegas, John Byner's wife, entertainer Annie Gaybis, and his sisters visiting from New York, went to see Dick Feeney's The Rat Pack is Back at the Rio. A photographer snapped the accompanying photo of Annie and Kenny Jones, who plays Sammy, after the show.
via ClaireVoyant's Blogs » OpenVegas Social Network (link broken 8/10/14 original link at http://www.openvegas.com/vegas/blog/view/id_1693/title_claire-voyant-gossip-column-7-22-11/)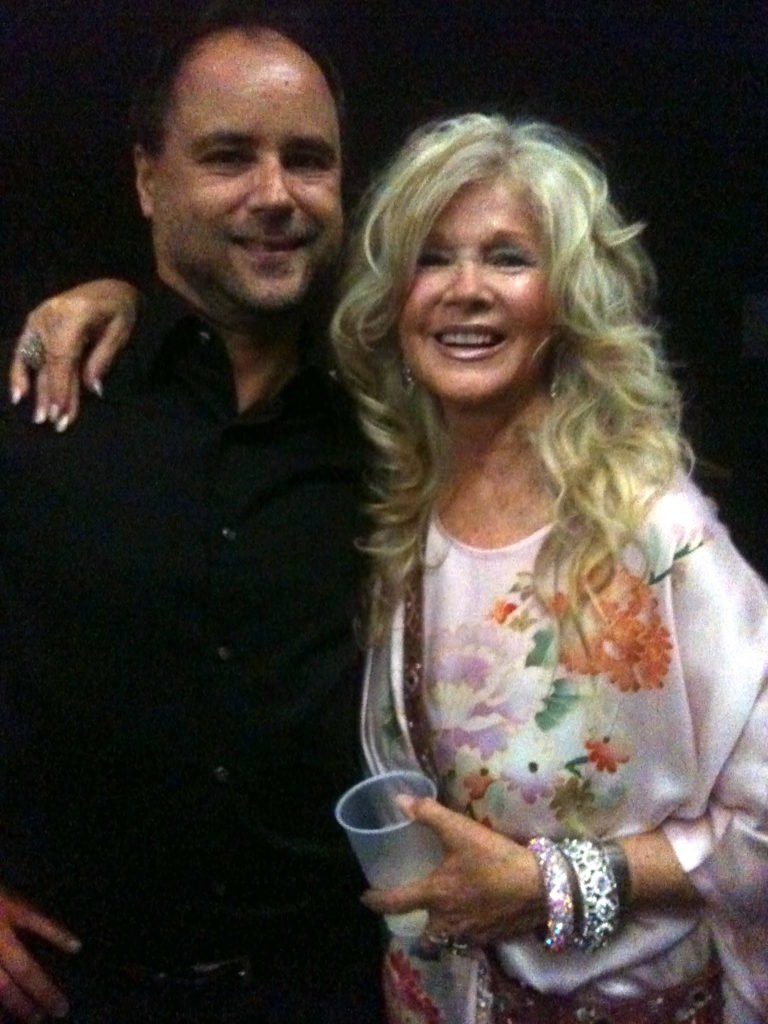 Artist: Bill Fulton on piano with Connie Stevens
Date: Wednesday, July 6, 2011
Time:
Venue:
Riviera Hotel & Casino
2901 Las Vegas Blvd S
Las Vegas, NV 89109